Welcome to Marshall County Child Nutrition
Marshall County Child Nutrition Employee receive awards at National SNA conference in San Antinio, Texas. Great job representing the State of WV and Marshall County!
Congratulations-- Carla Morehead, Cook II JMHS, WV Child Nutrition Employee of the Year and Mid East Regional Employee of the Year!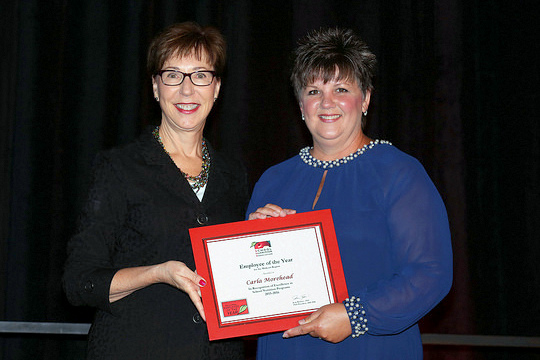 Lunch and Breakfast served daily to all students at no cost to Parents.

Each student enrolled in Marshall County Schools will receive a healthy, nutritious breakfast and lunch daily!!
All students will have access to healthy meals while at school. Good nutrition helps to promote better academic performance. The health and nutrition of our children continues to be a top priority for Marshall County.
All prior year account balances will be the obligation of the parent/guardian and will be pursued by the Marshall County Board of Education.
_______________________________________________

Marshall County Child Nutrition Staff increase their knowledge and skills of food safety and nutrition to create a healthy school environment and demonstrate a commitment to their profession!
Congratulations to the following Child Nutrition Staff who have earned have earned their certification through the National School Nutrition Association! Several other Marshall County staff members are in the process of obtaining their certification so check back often!
Click Here to see list of Marshall County Child Nutrition Staff who have obtained National SNA Certificates!
Good nutrition and learning go hand in hand!
The Child Nutrition department is made up of a team of food and nutrition professionals that are dedicated to students' health, well being and their ability to learn. We support learning by promoting healthy habits for lifelong nutrition and fitness practices.
Meals, foods and beverages sold or served at schools meet state and federal requirements which are based on the USDA Dietary Guidelines. We provide students with access to a variety of affordable and appealing foods that meet the health and nutrition needs of students.
_________________________________________________________________________________